Kerala Beach Tour Package
Duration : 08 Night / 09 Days Destination : Varkala Beach - Kumarakom - houseboat - Periyar - Thekkady - Munnar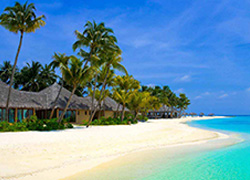 Day 01 : Trivandrum/ Cochin- Varkala Beach
On arrival at Trivandrum/Cochin airport our representative greets you and assists you to transfer you to Varkala Beach (45 km/ 1 hrs from Trivandrum and 220 K M /6 hrs from Cochin). On arrival check into the hotel, freshen up and adore the welcome drink. Rest of the Day enjoy at leisure aimless forth the beach belted by the swaying palm trees and bright silver sands with pristine water that creates spell binding adorableness as the golden slumber of the sun touches the pleasant waves. Later return on time to the hotel for dinner and overnight stay.

Day 02 : Varkala Beach
After having breakfast visit to the 800-year old Janardhana temple, committed to Ayyappanappan Ayyappanand Hanuman, above the hills has brought a sobriquet for the region, Southern Kasi (Benares). Afternoon adore visit to the absolutely and admirable Papanasam beach which is the ideal abode to view the evening over the horizon. The beach is belted by top cliffs and attic copse that makes that it's a small chuck of Paradise. Dinner and overnight stay will be at the hotel in Varkala.

Day 03 : Varkala Kumarakom Backwater Tour Package
AM: 0900 Hours after breakfast check out from the hotel and adore adventure to Kumarakom (140 Km / 3.5 Hrs). Kumarakom is a breathtaking village with array of Small Island acclaimed for backwater and exotic water bird sanctuary. On advent to Kumarakom check into the hotel, refresh up and have some refreshment. In the evening go for a Sunset Cruise or you have advantage to adore and analyze the breathtaking charm of the backwater just sitting or relaxing abreast Vembanad Lake. Dinner and overnight stay will be at the hotel in Kumarakom.

Day 04 : Houseboat (Alleppey)
Enjoy the breakfast and morning at leisure at the hotel. Later we transfer you to Alleppey, 1230 hours and check in at houseboat. ToDay adore the houseboat cruise on out acceptable houseboat and adore the breathtaking vistas of natural adorableness in their best form. As the well organized houseboat passes through the meandering pathways and serene canals you will get awestruck with the evergreen nature that Kerala holds. From Breakfast to Dinner and evening tea will be served in the Alleppey houseboat which is prepared by appropriate chef. All foods are cooked in a hygienic way using fresh spices and vegetables. Adore your lifetime experience houseboat trio to Kerala an event that you will relish in forever. Overnight stay will be on the houseboat in Alleppey.

Day 05 : Houseboat - Thekkady (Periyar Wildlife)
Enjoy the morning breakfast and leisure time on the houseboat. Later check out from the houseboat and we transfer you to Thekkady, an accepted wildlife sanctuary in Kerala. On arrival check into the hotel, freshen up and adore the welcome drink. Later in the afternoon adore the boat cruise in the affection of Periyar and see the assorted breed of animals and birds in their accustomed home authoritative an amazing move that offers you a amazing experience. See animals aside murmuring and you can as well enjoy the musical tone of birds that abduct your senses for romance. Overnight stay and dinner will be at the hotels in Thekkady.

Day 06 : Periyar - Munnar Hill
AM 0900 Hours checking out from hotel and we will head you towards Munnar (120 Km / 4 Hrs). The meandering roads that uphill towards Munnar is abounding of exotic sceneries and breathtaking vistas that never fails to impress the heart of tourists and off course yours too. On arrival at Munnar check into hotel, freshen up and adore welcome drink or fresh coconut milk. Dinner and overnight stay will be at the hotel in Munnar.

Day 07 : Munnar Sightseeing
After early morning breakfast toDay on your Kerala holiDay tour we yield you for a memorable sightseeing of Munnar. Here visit to Mattupetty Lake and Dam, Echo Point, Kundale Lake, Rajamalai and Eravikulam National Park which is home to the endangered Nilgiri Thar as well known as mountain goat. Here you will feel the peace and serenity and keep yourself far from the maddening crowd of the city. Breathe the aroma abounding air and the well organized tea gardens that never assume to end. Later return on time and enjoy dinner and overnight stay at the hotel in Munnar. Munnar is included in all the packages to Kerala as it is adorned with stunning adorableness of nature in all alluring forms.

Day 08 : Munnar Cochin
After morning breakfast check out from hotel and adore adventure to Cochin "the Queen of Arabian Sea" (140 Km /4 hrs). On the way to Cochin you will adore breathtaking vistas of natures with spice plantation, elastic and as well organized tea gardens, admirable waterfalls and small streams. Kerala is adorned with unparallel adorableness of nature which is absolutely unmatched. On arrival at Cochin, check into the hotel, freshen up and adore the welcome drink. And after brief rest here visit to the acclaimed Dutch Palace, Jews Street, St. Francis Church, Chinese Fishing Net and the Jewish Synagogue. Later we transfer you on time to the hotel for dinner and overnight stay.

Day 09 : Cochin Departures
Enjoy the morning breakfast at the hotel and later we transfer you to the airport or railway station to board the flight or the rail for onward journey. Thus your well executed Kerala holiDay package comes to an end. Memorable journey in the green paradise on earth here ends yielding you memorable memories and moments to relish in for lifelong. The overwhelming beauty of the Gods Own Country will entice you to visit this state again and again.